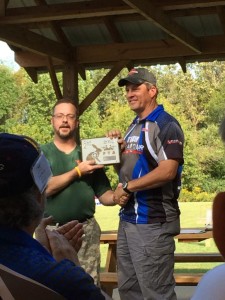 Hi and welcome to my web site.  I hope you enjoy the content here.  I will do my best to update the site as often as possible, so check in to see what we have added.  This site is dedicated to airguns, field target and competition shooting.

A little about me…  I have been shooting pretty much all of my life.  I spent many years in law enforcement, as a firearms instructor and member of the State Tactical Operations Team.  I always enjoyed shooting, but by far my most memorable experiences have come from shooting airgun field target competitions.
It all started in 2006 when I shot my first field target match with Cliff Smith and Brad Troyer in Huntsville, Alabama.  From that day on, I was hooked!  I attended club matches and soon began to compete in regional, national and my first World match in 2007.  My progression into airguns evolved over time.  I have learned many things since I started in the sport and hope I can share some of that knowledge here with my friends and acquaintances.
I am a two-time United States Field Target PCP National Champion.  I also placed 1st in the United States Field Target Championship, Piston Unlimited Division in 2007.   I have been fortunate enough to compete in several World Field Target matches.  I placed 2nd in the World Field Target Piston Division in 2007.   I also placed 8th overall in the World Field Target Match in Ebern, Germany in 2013.  I have also won several AAFTA Grand Prix titles,  National, Regional and State titles, as well as, placing well in various other matches over the years.
As a result of competing with air rifles, I have learned to work on my own rifles.  I find it to be rewarding to work on and improve my air rifles.  I also enjoy reviewing products and writing articles related to airguns and the sport of Field Target.
I hope you enjoy the web site, videos and articles I post here.  If you have recommendations for things you would like to see here, drop me an email.  I wish you all the best in competitions in the coming year.
WFTF, Ebern Germany 2013                                                            WFTF, Lisbon, Portugal 2016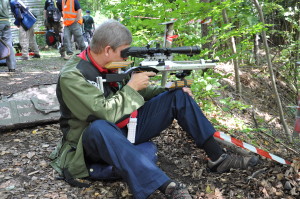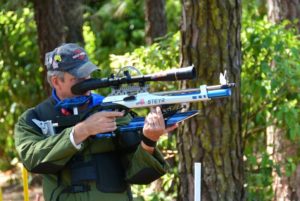 FIELD TARGET SHOOTING ACCOMPLISHMENTS 
United States National Championships
United States Field Target National Championship – National Champion -2010
United States Field Target National Championship – National Champion -2009
United States Field Target National Championship – Piston Unlimited 1st Place – 2007
World Field Target Championships
World Field Target Championships, Pulaski, TN – 2nd Place Piston Division – 2007
World Field Target Championships, Ebern, Germany, 8th Place, PCP Division – 2013
World Field Target Championships, Lisbon, Portugal, "Master Classification" PCP Division, 2016
2016 Field Target Season
Tennessee Valley 100 Field Target Regional match – 1st Place WFTF – 2016   
Cajun Spring Classic Field Target Regional match – 2nd Place Overall (tied for first) -2016
Southern Open Regional Field Target match – 3rd Place (tied for second) – 2016
World Field Target Championships, Lisbon Portugal – Achieved "Master Class" PCP Division- 18th
2015 Field Target Season
AAFTA Grand Prix – 1st Place WFTF Division 2015
Pyramyd Air Cup – WFTF and Overall Champion (1st Place)
Crosman All- American Field Target Championship – WFTF 2nd Place Overall –
2014 Field Target Season
United States Field Target National Championship- WFTF 2nd Place – 2014
Good Ole Boy's Championship Match – WFTF 1st Place – 2014
2013 Field Target Season
AAFTA Grand Prix – 1st Place WFTF Division 2013
World Field Target Federation Championship, Ebern, Germany – WFTF -PCP – 8th Place 2013
United States Field Target National Championship- WFTF 2nd Place – 2013
Republic of Texas Regional Match –WFTF 1st Place – 2013
Tennessee Two Step Regional Field Target Match – WFTF 1st Place – 2013
Northeast Regional Field Target Championship – WFTF 1st Place – 2013
2012 Field Target Season

Cajun Classic Regional Match – 1st Place PCP Division – 2012
Good Ole Boy's Championship Match – 1st Place PCP Division – 2012
2011 Field Target Season

AAFTA Grand Prix – 1st Place WFTF Division – 2011
Cajun Classic Regional Match – 1st Place WFTF Division -2011
Redneck 100 Regional Match – 1st Place WFTF Division – 2011
Bluegrass 100 Regional Match – 2nd Place WFTF (tie for 1st) – 2011
United States National Championship – 3rd Place WFTF – 2011
2010 Field Target Season
American Airgun Field Target Grand Prix – 1st Place PCP Division 2010
United States Field Target National Champion – 2010
Tennessee State Championship Match – State Champion – 1st Place Piston Division – 2010
Northeast Regional Field Target Championship – 1st Place WFTF
Good Ole Boy's Regional Championship Match – 1st Place -2010
Cajun Classic Regional Match – 1st Place – 2010
Republic Of Texas Regional Match – 1st Place – 2010
2009 Field Target Season
Southern Grand Prix – 1st Place PCP Division – 2009
United States Field Target National Champion – 2009
Tennessee State Championship – State Champion -2009
Good Ole Boy's Regional Match Championship – 1st Place – 2009
Mt. Cheaha Challenge Regional Match Championship 1st Place – 2009
2008 Field Target Season

Southern Grand Prix – 1st Place Piston Division – 2008
FL Super Bowl Regional Match – Piston Division Champion – 1st Place -2008
Dragon's Breath Regional Match – International Division – 1st Place – 2008
Good Ole Boy's Regional Match – Piston Division – 1st Place – 2008
Louisiana State Match – PCP Division – 2nd Place -2008
Cajun Classic Regional Match – Piston Division – 2nd Place – 2008
2007 Field Target Season

United States Field Target Nationals – Piston Unlimited Division – 1st place – 2007
World Field Target Federation -World Championship – Piston Division – 2nd place – 2007
(Numerous other awards in local, regional and national matches)