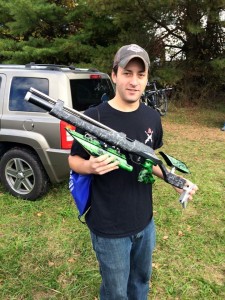 My buddy Tyler Patner asked if I would convert an old 10 meter Steyr for him to 12 fpe to shoot in the World Field Target Division.  I eagerly agreed to help Tyler out since he had a hot lead on an old gun at a good price.   His plans were pretty simple at first, but evolved into a wicked design that he can enjoy for many years to come.
Tyler found is little gem of a Steyr sitting unused for a number of years.  He had it sent to me and I went to work converting the gun to shoot just under 12 fpe for the WFTF Division.  Once I had the gun disassembled, I re-worked the regulator and set it to a pressure of 85 bar.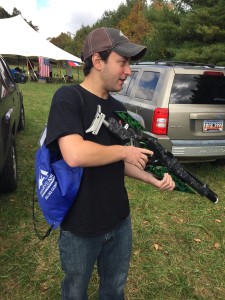 I also converted the gun to the new external velocity adjuster which required me to make a part and mill out the plastic trigger guard to accept the new adjuster.  I polished the hammer, springs, adjusted the trigger and set everything up just like I would my own gun.  Finally, I changed out the old cocking stud for the new style cocking roller bearing.  Once complete, I tested the rifle over the chronograph and then by shooting several groups on paper.   The gun turned out truly amazing with the old hammer forged "barley twist" barrel!
Next we moved to the finish of the gun.  As I've heard before, if you can't be good, make sure you look good…   So, no matter if one has a bad day of shooting, at least with a cool gun, he'll look good doing it.  Tyler selected a green flame pattern for his wood and skull pattern for the chassis of the gun.  To round it all out, he decided to use some carbon fiber on the trigger guard and air tube.  I made the wood forend of the gun and inletted it for Tyler's Rowan Engineering knee riser.  Finally, I had it all of the hydrograpics applied to the gun.
Needless to say, this Steyr LG100 turned out pretty awesome.  I delivered the gun to Tyler at the U.S. Field Target National Match in North Carolina.  Tyler was one happy fella and I have to say I am pleased with the final results.