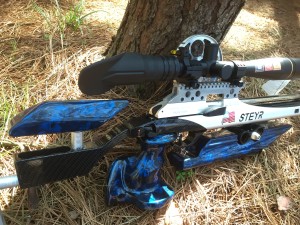 I've owned my Steyr LG110 since 2012.  It started life as a LG100, ten meter rifle.  The serial number is 273 and was an original Steyr Manlicher gun.  I converted the rifle to 12 fpe for World Field Target.  I added an external velocity adjuster and eventually changed over to the new LG110 chassis.  I have been very pleased with the gun as it is superbly accurate and consistent.  I shot it for a couple of years with the old original Steyr yellow and black laminate wood.  It worked fine, but I felt this rifle deserved a better fitting wood set.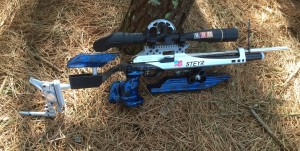 So, before last season I made a new set of wood for the rifle.   The new wood set included a custom fitted grip, cheek piece and knee riser.  I used a riser mechanism from Mac1 Airguns in California.  It functions well and doesn't add too much weight.   I made some slight adjustments to the wood set last season.  This winter I decided to refinish the rifle in a blue base-coat, skull hydrograpic pattern and lots of clear-coat!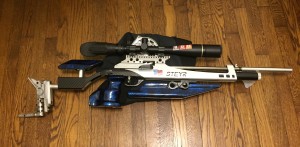 As for the rest of the rifle,  I used a carbon fiber gray for the buttstock, trigger guard and air cylinder.  I think it turned out really nice.  Now I feel the rifle is almost complete.  I still have a couple of parts that will get some color later, but for now… It's time to shoot!