I've spent a lot of time shooting air rifles of just about every sort for field target.  During that time, I've spent a considerable amount of time working on my guns in an attempt to extract the best performance from them.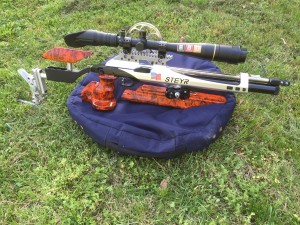 One of my favorites to tweek is the Steyr LG100 or LG110.  These rifles can be fitted to the individual shooter for field target and perform astoundingly well in the field.
My latest Steyr LG110 started life as an old LG100 10 meter rifle.  It is serial number 273 and sports the old "Barley twist" hammer forged barrel.  I bought the gun used with the specific intent to make it into a field target superstar.  
Well, so far I haven't been disappointed.  Shooting this rifle, I've won several major matches in the USA, including the Tennessee Two Step, Good Ole Boy's Championship match, Crosman's Northeast Field Target Championship match, Republic of Texas Championship match and managed to place 2nd in the United States Nationals twice and 8th in the World Field Target Championship in Ebern, Germany.  So, needless to say, this is a great rifle and my hard work with it has paid off.
This article is to feature my old Steyr LG110, serial number 273 and some of the work I have recently completed doing to it.  My most recent addition is the new, three piece wood set.  I made all three pieces based on what I believe to be a comfortable fit and reliable function for field target purposes.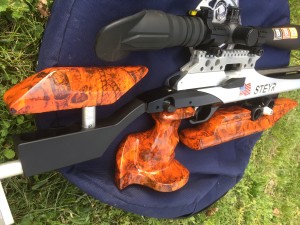 I also finished, painted and added hydrograpics to the pieces for a little snazzy bit of taste that I believe this fine rifle deserves.
This set is made of poplar lumber and was finished with many coats of lacquer.  As a matter of fact, I'm not really done at all with it.  I plan to wet sand it with 800 and finer sand paper to remove some minor imperfections in an effort to further refine the finish.  This will also help to further protect the wood from the elements as it's pretty common on some World Field Target courses to shoot in the rain.
I hope you can see some of the detail that went into the finish of this Steyr wood set.  I used a skull pattern of hydrographics when finishing my custom stock set.  I think it looks pretty cool from both distant and close up perspective.
  I had the opportunity to show it off at the NRA national convention this weekend in Nashville and the feedback was overwhelmingly positive.  I suppose not too many shooters had seen a "BB gun" that looked like my old Steyr…  That's okay because it grabbed attention and brought some much needed awareness to our sport of Field Target.  I'm always pleased when I can share what we as airgun shooters do with these rifles.  It seems that most shooters find it both intriguing and a natural draw from a gadget, competitive and pro-gun perspective.
Here you can see some of the detail of the grip.
   It has a custom made screw cup that I made here in house to help finish out the look of the grip.  It also features an anatomical grip area specifically made for my hand.  I find it to be very comfortable and the grip was designed to place the pad of my trigger finger in the exact location it should be when
I prepare to take a shot.   That way I don't have to do much adjusting to get my proper grip.  Just place my hand on the grip and everything lines up as it should.  Makes for a nice day on the field target course when things fit properly.
I have also made a custom riser into the forearm of the gun.  This particular model of riser is made by MAC1 Airguns in California.
 I've been using these for many years and like the way they function.  This was the first model of knee riser I ever used on my USFT rifle.  So, instead of changing what I was doing when I went to WFTF division, I just stuck with what had worked in the past on my old Open Division gun. This knee riser will move fore and aft on the rail of the gun.  It will also move up and down by releasing the quick release that you can see mounted horizontally on the mechanism.
For perspective, here is a photograph of where this Steyr has come from.
 It started out as a good, reliable gun.  I initially did the internal set up of the gun to raise the power to 11.5 fpe by setting the regulator pressure to 85 bar.  I also made some parts to allow me to use the old hammer assembly in conjunction with the new external power adjuster.  The velocity is very consistent and shoots about 810 fps with JSB Express 7.9 grain pellets.  Once I had the gun shooting well,  I changed out the chassis to the newer LG110 silver chassis in 2013.
Now I have finally completed the new stock set that you see above.   I will probably add a few more touches of hydrograpics to the scope rail, butt-stock and maybe the air tube.  Otherwise, the rifle is ready to go win some matches.
I hope you've enjoyed seeing my old Steyr and what I've done with it.  Let me know what you think.  I will be doing a limited amount of custom work in the coming months.  So, if you are interested in anything I've done to my rifles, just drop me an email and I'll be happy to discuss how I could help with yours.
Take care,
Harold Rushton
Update:   Below are a couple of updated photos of my custom Steyr wood in blue with a skull hydrocoat pattern.